We often feature very niche businesses owned by women who are dedicated to very singular pursuits: bees, broths, music or even running. We see you, we celebrate you, we love you! But this week with Lorrie Palmos, we want to explore the other side of that dynamic, where owning your own business(es) can mean having eggs in multiple baskets that each fulfil a specific purpose. The pragmatic, safe money-maker you started when your kids were young. The creative outlet. The new and thrilling investment opportunity. It's a lot to cover…
Lorrie is a born-and-bred native, a regular at breaks along the coast, someone who in turn has raised her children (now grown) here in Santa Cruz. It was her desire to start her family that first led her to work in dental hygiene, something she says was reliable at a time when she had more pressing concerns.
She still works as a hygienist three days a week. But as her children started to grow she found herself able to chase new pursuits, and they all seem to have something in common:
"My main goal is to encourage women to get involved with other women and to look for support in whatever they love. Especially if you have younger kids and you want to be inspired to prioritize your goals and desires."
For Lorrie, this started with picking up a camera again, something she had enjoyed from a young age when she was gifted her father's Minolta. An avid surfer, she often found herself photographing her friends. A chance parking lot meeting with Scott Foss led to an invitation to a skateboarding shoot, and so it went. Lorrie began shooting skateboarders at the skate park, in backyard pools, and ultimately in competitions. In particular, she worked closely with women, including the Santa Cruz Lady Lurkers.
"When I was exposed to the Lady Lurkers, it was a different atmosphere and I found it really inspiring. They were supporting each other and there wasn't a sense of competing against one another. All the people I met, and especially the women, are a cohesive community and they encourage each other. And you can be from any walk of life. You can be a lawyer from Brazil or a reformed surf rat."
Unfortunately, as any aspiring photographer can attest, it's hard to make a living out there. Setting aside the staples she had to get when a skateboard hit her in the head and a broken finger from another shoot, the work was quite grueling and paid little. As such, Lorrie says she began searching for a new gig that was stable while also maintaining some of the creativity she appreciated in photography.
Her daughter's recent success in real estate urged her to reconsider a career she had set aside many years before. Currently, Lorrie works with Coldwell Banker as a real estate agent here in Santa Cruz. Having that native blood means she knows the neighborhoods and is well-suited to help people find what they want. And her photography hasn't gone away; she sometimes shoots photos for her listings.
"In the real estate community as well, there's just a lot of support. We have Facebook groups where women come together and have a pool of people to ask questions of. You see a lot of single women with kids in those groups, and it's so important for them to share their path and to see that other people can do it. If you have a passion, you can make it happen."
There are a lot of ways to reach out to Lorrie in her various pursuits. For her photography, you can visit her website or Instagram. For her real estate, she has a broker page as well as an Instagram. And of course, to roll it all together you can see her LinkdIn.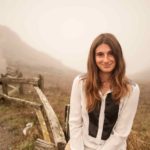 Thank you to our discoverHER Blogger: Amanda Heidt