Santa Cruz native Heather Houston has been pulling inspiration from ocean, wildflower, and redwood –and from the women who move through them– for a long time. Singing was central to her life from a young age, and as an adult she has maintained that passion through her women's singing circle Sisters in Harmony, women's choir Yala Lati, and in the 10,000 voice lessons she has taught here in Santa Cruz during her 17 years in business as Heather Houston Music.
Soft-spoken in her words, when singing her voice is clear and powerful. And it is this same sense of self and support from her community that she wishes to pass on to her students.
"I've watched women's lives transform within the time that they're in my circle. Witnessed them going from being withdrawn to being open and empowered with their voices, and then in turn their lives. I've seen women's lives transform just through the act of opening their voices. That's a big piece of why I do this."
What began as a small schedule of private lessons first expanded to include her singing circles, an all-women's affair referred to as Sisters in Harmony in addition to monthly community circles where all are welcome. After an initial introductory class, participants of Sisters in Harmony join in to weekly sessions to build their voices together in an open and supportive environment.
"I believe that women really thrive in a community, they thrive when they collaborate, they thrive when they feel witnessed, and they also thrive when other people are holding them to their dreams."
That feeling of success led to many repeat attendees asking for more serious commitments, and ultimately her choir Yala Lati was born, a name which Heather says was created to evoke "women's voices rising in harmony to praise life and bless the world."
Heather uses her music to advance causes that touch her. Yala Lati plays two benefit concerts each year, the proceeds of which have been donated to The Rebele Family Shelter, The Santa Cruz Women's Shelter, Amah Mutson Land Trust, and the Artemis Project. Similarly, her first album alongside Yala Lati, Prayers for the Water, was inspired by her love of the Pacific Ocean that shapes so much in our coastal town. Proceeds from the sales went to Save Our Shores, whose work in the Monterey Bay National Marine Sanctuary ensures that the benefits remain rooted in our community.
Currently, Heather is wrapping up a Kickstarter to fund two new albums. The first, Sisters of the Moon, is a celebration of her collective experiences singing alongside women here in Santa Cruz. As part of their rewards, donors past a certain amount are being offered the chance to sing on the album, which has led to a choir of 70-plus members being featured. Proceeds from this sale will be donated to Rising International. The second album, Rising Strong, was created in response to the strength of children standing up to gun violence.
Heather talks about the importance of being a song carrier in the oral tradition. Throughout time, song has been an avenue to bring people together, and the passing of song from person to person preserves the historical context in which it was conceived. It seems that in using her music to highlight the things most important to her, Heather likewise creates a record of how song can uplift the collective female voice.
"I believe that everyone can sing. Singing really breeds connectivity and this is a safe space for women to come try it out. You will never be singing alone. Your voice is carried by the collective voice. And it ends up being a very healing space for those who have experienced trauma."
Heather will be hosting a Sisters in Harmony introductory class on June 10th ahead of the six-week summer session. If you are interested in attending, be sure to sign up! If you are an established singer looking to further your leadership ability, she will likewise be hosting a Song Leader training course later in June. Please see her website for more details and be sure to follow along on Facebook and Instagram.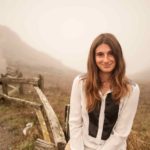 Thank you to our discoverHER Blogger: Amanda Heidt