When:
March 16, 2019 @ 11:00 am – 1:00 pm
2019-03-16T11:00:00-07:00
2019-03-16T13:00:00-07:00
Where:
Food Lounge
1001 Center Street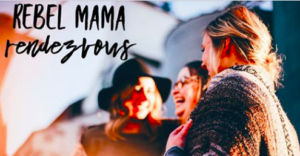 Rebel Mamas Santa Cruz presents: Rebel Mamas Rendezvous
You're a great mom. You do so much. You care so much. Sometimes you crave freedom. Then there's the responsibility, the guilt, the should-dos and have-tos all over the place.
We all have a wild and free inner rebel calling out for more fun, fierceness, frivolity, vitality. She wants to be unleashed, unashamed, fully-expressed, passionate, exuberant, radical and maybe a little goofy.
Rebel Mamas Santa Cruz was made for you. For all of us. A community of moms who miss freedom and individuality. We believe its possible to be a great mom and nourish your inner rebel. Together let's share and discover how to be our spunky selves to the fullest and enjoy our time while we fulfill our duties. Lets be truly connected in face-to-face friendships that soothe our souls and spark our creativity. Let's celebrate our individuality and learn to curate our lives into the masterpiece calling from within.
At this Rebel Mama Santa Cruz LAUNCH we will gather for fun and freedom. We will have discussion topics led by local mama experts and we will make friends, make plans and leave feeling refreshed, resourced and rebellious! (We are working towards childcare but it's not yet sorted out – let us know if you have ideas or leads on that!!)