Steel and Grace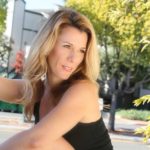 Dominique Lesperance
Dominique Lesperance has owned and operated Body In Motion Pilates in Aptos since 1998. 20 years later, she is excited to announce she is opening another studio, Steel and Grace Pole, with co-owner, Ellice Apostolos. Dominique began her career in the fitness industry in 1992 as an aerobics instructor and personal trainer. A consummate fitness junkie who, at the age of 41, discovered the sport of acrobatic pole and was instantly hooked. Originally certified in Pilates by the Physicalmind Institute of New York. In 2008 she earned her second comprehensive Pilates Certification with Rael Isacowitz, founder of Body Arts and Science International (BASI®) in Costa Mesa. A member of the Pilates Method Alliance, she is also a certified Gyrotonic® teacher by Julio Horvath (creator of Gyrotonic®) as well as Xtend Barre instructor and most recently in 2015 became a Level 1 Gymnastic Bodies Athlete, certified by the creator of GST, Christopher Sommer. In the effort to always remain a student of movement, Dominique has continued her studies and has attended numerous conferences, workshops and BASI® advanced education courses over the years, including; Injuries and Pathologies with Samantha Wood, Bone Smart for Osteoporosis with Teresa Marchock and Low Back Pain and Shoulder Injuries with Karen Clippinger. She completed her BASI® Pilates Mentor and Master Certificates in 2011 and received BASI® Pilates Ultimate Certificate in 2012. She is also a proud member of the BASI® Pilates faculty and has traveled around within the US and China teaching BASI® Pilates courses. Dominique integrates her years of Pilates experience into every Pole class she teaches.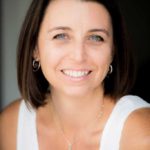 Ellice Apostolos
Ellice Apostolos empowers every woman to connect to her body's innate wisdom and pleasure so she can move through the world in​ her​ fully expressed radiance. As a certified S Factor instructor, Ellice offers deeply transformative trainings where what begins as a personal erotic movement practice within the studio walls can become a sustainable practice that enriches every area of life. Ellice also guides women entrepreneurs to build the life of their desires through her online programs. She empowers them to put deep self-care and pleasure at the heart of their work so they can lead with their feminine genius, avoiding overwhelm and experience the success of a lasting and sustainable business.
As co-owner of Steel and Grace, Santa Cruz California's premier pole studio, Ellice offers a variety of weekly S Factor classes suitable for women with or without dance experience. Whether you want to learn pole dancing, unearth your sexy, create a fun wall routine, discover your flow with floor work and pole, learn a lap dance or add a strip tease to your play, Ellice is excited to dance with you!
Visit their website: steelandgracepole.com
Find them on Facebook: @steelandgracepole