Born in New Orleans, Kamala Allison, our Woman of the Week and owner of the new Fybr Bamboo downtown, landed in Santa Cruz 22 years ago. Her family had moved around quite a bit while she was growing up, and it wasn't until she came to Santa Cruz that she felt like she was at home. With a background in web and graphic design, working with startup tech companies and experience running the family business, she was primed to start something new. While deliberating over her many options, from a Yogurtland franchise to interior design, she discovered bamboo clothing.
Kamala bought her husband a bamboo shirt as a gift, and he immediately commented on how soft it was. She noticed too—"his hugs never felt so good!" So for his next birthday and subsequent special occasions, she bought more bamboo clothing. Her son loved his new bamboo socks, and her daughter got a new favorite t-shirt. Not only did the material feel great, but bamboo is a renewable resource that is naturally breathable, hypoallergenic and moisture wicking. "It checked all the boxes for a luxurious and eco-friendly product!"
Her corporate background, combined with experience helping her husband run his business, Santa Cruz Plumbing, gave Kamala a functional understanding of what goes into running a balanced enterprise. In the corporate world, it can be hard to get anything done because of all the red tape, and in a family business there can be a lack of standard processes. She had to figure out how to have process and predictability, while still enjoying creative license and getting things done. "It can't be a free for all, but you can't get held up in red tape either." She says she's learning every day. "Learning and growing with the business has been challenging but fun."
Kamala is in her second marriage and she turns to her now-husband during hard times. "He gives the best pep talks ever." But that wasn't always the case. When her kids were four and six, she went through a divorce. She had never lived independently before and suddenly she had to go it alone. "I wanted to break down, but I had two little kids looking at me to be their rock. When I wanted to be saved, I had to save myself." This took her on a spiritual journey and helped her establish the self-love and confidence she needed to provide for herself and her family.
"Now I know I can chase after anything I want. I'm so grateful for that experience." It might surprise you to learn that she and her current husband, along with their five kids combined, enjoy vacationing with her ex-husband and his new family!
Qualities that Kamala finds invaluable include flexibility, a willingness to learn, listen and take advice, nonviolent communication, kindness and integrity. In order to recharge, she likes to walk on West Cliff, exercise and spend time with her family—and she's working on integrating more meditation and yoga. But sometimes what she needs is actually a little guilty pleasure, like a yummy treat or a tv show. It's all about balance! She's inspired by beauty, goodness, love and faith. "I remind myself that as long as I carry myself with kindness, compassion and integrity, everything will turn out better than ok."
"My life has been like one of those 'choose your own adventure' children's books. I write the story by making choices but without knowing the plot twists or the end," she says, "what excites me is knowing that I'm setting an example for my five kids that they can chase after their own dreams just as I am doing."
Fybr is now open for business at 1528 Pacific Avenue, so stop by and check it out! Their soft opening was on May 7th, and their grand opening will be held later this summer.
"Fybr's mission is to promote an eco-conscious lifestyle that doesn't sacrifice luxury and comfort. We carry ultra-soft, eco-friendly, hypoallergenic bamboo activewear, underwear, baby clothes, bedding and towels."
Follow her on
Facebook: @fybrbeing
Instagram: @fybrbeing
Written by our discoverHER blogger: Liz Hodges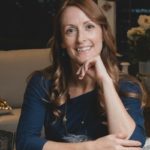 Photos by: Ashton Miyako