Summer is upon us, which means the weekends are perfect for an early trip to the farmer's market and a late dinner party on the deck cooked alongside family and friends. From our wines to our cured meats, Santa Cruz is a city of people who love to eat paired with a close community of famers and artisans taking great pride in what they can bring to our plates (including many we have highlighted here).
This mentality helped prompt our Woman of the Week, Santa Cruz-native Jorden Richardson, to transition from working in the high-end dining industry in Monterey back to Santa Cruz to open her catering company Savory Events in 2015.
"Santa Cruz still values putting money into good food," Jorden says, "It just might not be as much about going out to a hot new restaurant as it is going to a farmer's market and building relationships with people you see every week."
But before we move into the business, a history:
Jorden began working in food in her early teens, although it wasn't necessarily in her mind as a career. A turning point came when a friend gifted her a copy of Anthony Bourdain's Kitchen Confidential, a book so meaningful she enrolled at the Culinary Center of Monterey a week later.
After graduating, Jorden worked for many years as a Banquet Supervisor at Spanish Bay in Pacific Grove. She planned and executed large events, but it required her to consider the experience in addition to the food. And when she moved into a new role as the receiver and organizer of supplies for all 120+ chefs at the annual Pebble Beach and Los Angeles Food and Wine Festivals -a monumentous undertaking that sounds truly insane even in writing- she had to effectively manage many shifting tasks.
All of these skills were ultimately essential when she launched her luxury catering company.
Savory Events offers several services, including traditional receptions and in-home plated dinners. If you're interested in seeing how the food comes together, they host interactive dinners where you can help prepare your own multi-course meal. During her busy season (April-November), Jorden says they tend to cook for weddings, house parties, rehearsal dinners, birthdays, and corporate events. Being flexible keeps things fresh and draws on that broader skillset.
"Being in catering and events has really challenged me to go beyond the cooking side. When you're just an employee, you don't have to think about the location or the resources or the planning, the true nitty-gritty of where your power comes from. And now those things are always changing."
Inherent in this type of work is the chaos of always working in a different setting. While Jorden and her staff do all the prep work in a commercial kitchen, they are ultimately cooking your meal on-site like a traditional kitchen. But sometimes that kitchen is a field, a barn, an AirBnB. Sometimes they plug in their equipment and blow all the circuits. It takes a small but committed group to pull off each event.
"We're not one of those massive catering companies with hundreds of employees, and I have no interest in being that kind of business. It's quality over quantity. I want to be there, cooking the food with my team. That's the part I like! I want us to be doing the best possible work we can do."
Despite the stress, Jorden highlights the benefits that come with owning her own business.
"I have a lot of freedom, which is great for me as a mother to a 9-year old daughter. She is one of the reasons why I made the jump from being an employee to owning my own business. Now I can take my daughter to school every day, pick her up every day, go to all the after-school activities and fieldtrips."
In negotiating herself for all their ingredients, she has also made valuable working friendships with local farms. Almost all of her ingredients are sourced from within 100 miles of Santa Cruz. As a result of the more laid back food atmosphere that Santa Cruz offers, Jorden can afford to be a bit more creative than a traditional menu would allow. Keep an eye out for a "pork and cider" pop-up that showcases local Tanuki Ciders as a vehicle for locally-sourced meat.
If you feel like you need some visuals for this story, you can check out Savory Event's website and Instagram for sample menus and photos. And if, like us, you have sudden inclinations to book an AirBnB and take your summer staycation to the next level, feel free to reach out for your next event.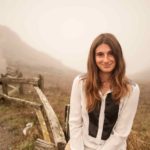 Thank you to our discoverHER Blogger: Amanda Heidt