When:
August 25, 2018 @ 5:00 pm – 9:00 pm
2018-08-25T17:00:00-07:00
2018-08-25T21:00:00-07:00
Where:
Tannery Court Yard
1010 River Street Santa Cruz
CA 95060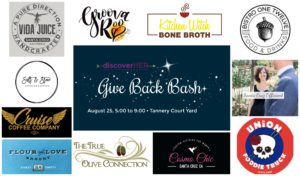 Ladies, join discoverHER as we host our 6th annual Give Back Bash! This year we are changing things up…
discoverHER is a platform and resource hub for all women across Santa Cruz to discover, inspire & celebrate together. Our mission is to build an alliance of women who support each other and our community. In the spirit of building community you are invited to join us on August 25th in the Tannery Courtyard. We are keeping the details tightlipped to ensure the element of surprise. We can tell you it will be fun – lots of fun! There will be Food – fabulous food, prepared from local and talented chefs. Proceeds from the event will go to the Wahine Project. Seating is limited; get your ticket.
Collaborators Include:
Sonia Le of Cosmo Chic
Amber Anjali of GroovaRoo Dance
Naomi Ehrich of Santa Cruz Officiant
Carrie Clark of Vida Juicery
Susan Pappas of The True Olive Connection
Tana Duncan of Salt & Stone
Magali Brecke of Kitchen Witch Bone Broth
Rachel Thompson – Ceballos of Union Foodie Truck
Shannon Madison of Bistro One Twelve at the Tannery
Brenda Hopson and Tina Clifford of Flour & Love Bakery
Erin Buchla of Cruise Coffee Company
Sponsors:
Coastal Kindness