If you read our recent post about Kaya Lindsay and found yourself thinking "Wow, how does such a young woman have the tenacity to take those risks?," then consider a small change to the oft-quoted idiom of a strong woman existing behind every strong man. Because truly, there are great women behind (and surrounding) all of us, and in this case the strong woman is Kaya's mother Deborah Lindsay, Director of Operations and Sustainability at SellHound and our Woman of the Week!
SellHound makes it easy to sell secondhand items online with a technology tool that creates an optimized listing of the item and posts it to eBay. They also have a price comparison search engine that searches prices for new and used items from sites such as eBay, Poshmark, and Amazon into one place and doing away with the need to search them individually. They even help to craft the perfect listing for your item and calculate average prices you can expect for your sale. The goal, Deborah says, "is to give items a new life and to keep things that still have value out of the landfill."
But the inspiration goes beyond the economics. Deborah's journey as an entrepreneur involves a pivotal moment that has since guided many of her decisions. While pursuing her bachelor's degree in Culture, Ecology, and Sustainable Communities at New College, she met Richard Heinberg, one of the world's leading advocates in renewable energy solutions.
"The veil of the world had been pulled back for me," Deborah says, "And I was very moved by the arguments he made. I pledged to start my own nonprofit aimed at addressing some of these environmental and cultural issues." That first non-profit was Sustainable Monterey County (now called Citizens for Sustainable Monterey County), a central hub for communities working to advance environmental efforts. It signaled the beginning of a lifetime commitment to sustainability which took a (sometimes humorous) series of turns. A radio interview to drum up new members lead to her own daily show, Tomorrow Matters, which she went on to host for three years! And further spurred by community action, she served as a Pacific Grove City Councilwoman for two years, running the nation's first carbon-neutral campaign.
"It was one of the most amazing experiences of my life. You are given an issue and you can't imagine how such an impossible situation could ever turn out. But then, you sit down with your fellow council people and together come up with elegant solutions that satisfies everyone. It's amazing to learn the group mind can work for good, if done for a common goal."
This mindfulness of our impact and a reliance on adaptable solutions extends now to her position with SellHound. She ultimately attended Presidio Graduate School to pursue an MBA in Sustainable Management, the better to bridge her environmental principles with practical business skills.
Deborah aims to break the concept of a linear supply chain in which a product is created, consumed, and destroyed. Instead, she advocates for a circular economy whereby every product can live multiple lives. Imagine a plastic fork that instead of winding up as ocean plastic being recycled into a running shoe. Ultimately, a circular economy minimizes waste and refines the flow of energy through our systems.
She truly believes we exist at a pivotal moment in time, where we must make uncomfortable decisions about our future. And as a mother of two young women, she feels the weight of the choices we make now that will have implications moving forward.
"I am driven by the fact that I have girls who are watching me. And not just my own girls, but other women who are gaining inspiration from following my experiences and my story. And I couldn't have done any of it without the support of those women around me."
If you feel as inspired by her journey and her words as we do, you may be picking up on Deborah's skills in public speaking. Her clear desire to reach out is best described by her own observation: "We are who we are because of our community." Increasingly, women she has worked alongside credit her energy and positive attitude as pivotal elements in their own success. Recently, Deborah has begun offering twice-monthly lunchtime meetups at Nextspace for women to come practice their public speaking skills in a supportive environment. For more ambitious speakers, she also offers 1-on-1 coaching to gain authority and skill.
Be sure to visit SellHound for all your secondhand buying and selling needs. If you have an interest in personal coaching or public speaking training, you can visit Deborah's website and her Santa Cruz Womens Speaker Meetup group for all the details of her lunchtime series. The next meetup will be April 24th, from noon to one. Deborah will also be speaking in person at the upcoming Micro-Business Summit, the county's largest small business conference.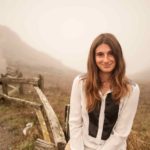 Thank you to our discoverHER Blogger: Amanda Heidt