Kendra Dosenbach of CurlyQuirk Art + Craft grew up in the metropolitan sprawl of New York, Atlanta and Houston, so she's no stranger to large urban centers. She moved to Santa Cruz two years ago with her husband, and loves that it's "a human-sized city where I never fail to see someone I recognize every time I am downtown." Her family has embraced their community in Beach Flats, which has the "rhythm and feel of village life," with neighbors often visiting each other's homes and enjoying celebrations and BBQs in the community garden.
"Multi-passionate" by nature, Kendra inherited a love for travel from her father, which led her to study Romance languages in college and take several trips to Italy. There she was immersed again and again in the rich creative history of the masters. It was DaVinci who inspired her to realize her calling of modern Renaissance woman. After graduating, she devoted several years to community organizing and youth empowerment, which is how she met her husband. She began teaching herself graphic design and modern calligraphy on the side, and shortly after their son was born in October of 2017, she was ready to become an entrepreneur and offer the world her creative talents.
During her childhood, Kendra was continually immersed in her mother's creativity and DIY projects, like hand-sewing Halloween costumes for her children and painting bright murals on their bedroom walls and garage. Even her mother's grocery lists were a work of impeccable cursive penmanship. "It was my mom who gave me my first calligraphy kit way back when." Arts and crafts weren't confined to a specific class or play date, but a way of life.
A key challenge Kendra faces is how to effectively allocate time between parenting and working, which is greatly alleviated by the support of her in-laws, who watch her son most weekday afternoons. She's also aware of the challenge found in striking the balance between time spent on administrative and marketing tasks and the time it takes to get inspired, do research and experiment with personal projects. To address this, she has given herself yet another challenge! Every 19 days she explores a different art form and posts an original work daily on Instagram. Follow along at @curlyquirk, where she has completed a "#19daychallenge" for brush calligraphy, mandala art, greeting card design and block printing. She is currently in the midst of pointed pen calligraphy.
Community is a central pillar of Kendra's brand. "One of my favorite offerings are creative workshops where people come together and slow down to enjoy each other's company and learn to make something beautiful with their hands." It also underlies her commissioned work. "I believe beauty is a service. It serves to unite our hearts more strongly to each other, and I am grateful for the opportunity to use my talents to nourish and uplift a community that continually gives so much to me."
She replenishes daily with prayer and meditation, journaling and some kind of movement (dance, yoga or walking). She deals with fear by befriending it. And she's excited about her plan to combine her many passions, in true Renaissance woman form, and lead creative workshops abroad—starting with Italy!
Find her online store here: https://www.etsy.com/shop/curlyquirk
Instagram: @curlyquirk
Written by our discoverHER blogger: Liz Hodges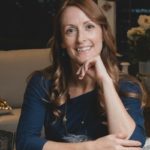 Photo by: Ashton Miyako