Edith Meyer was in tech for 10 years, doing product marketing and management, before she started Edith Meyer Wedding Cakes. She says she's always loved to bake. "Growing up in the south, I was always in the kitchen with my mom and grandmother." When one of her best friends asked to make her wedding cake back in 2000, she accepted the challenge. "It was a crash course, but so much fun." Then she started making cakes for friends of friends, and after she got married in 2002, her husband encouraged her to take out a booth at Coconut Grove. In 2004, she launched her website, and she's now on the preferred vendor list for many venues in the area and collaborates often. "Building my community has been an essential part of the business," she says.
Santa Cruz has been home to Edith since '95. "I can't imagine living anywhere else." She and her husband lived in the Seabright area for 20 years before moving to the Westside. She's been on the Arts Commission for almost four years, and they recently collaborated with the City of Santa Cruz and the Coastal Watershed Council, including others, to put on the Ebb & Flow River Arts Festival. Before that, she served on the board of Cruzin Courses for nine years.
The last five years for Edith have included a lot of juggling, with twin boys born in 2013. "It's been so much fun, but definitely has added stress to the balance. The first few years were just a fog, I don't think I got one good night's sleep… but I'm all caught up now!" Edith has often turned to friends and others in the community for help. "Forging and strengthening those relationships in the community gives you more flexibility—people tend to be generous, gracious and kind, and they want to help."
Of the many creative cakes Edith makes, this year one groom's cake really stood out. He was from Louisiana and his mother ordered a "low country boil" cake, which, albeit no small feat, yielded quite an impressive result. Imagine trying to make a cake look like a boiling pot of crawfish! How does Edith deal with this kind of pressure? Like a true artist, "I procrastinate! Then the week of, I'm terrified and then, suddenly, I'm knocking out a pan of crawfish… I'm sure there's a healthier way to deal with it, but I do face my fears… eventually!"
In the entire wedding business, especially the cake part, there is no room for slack. The skills involved in managing all aspects of a small business and not letting anything fall through the cracks include, at the very least, mild OCD and a high attention to detail. "You can't make any mistakes!" says Edith, "I always take a repair kit with extra ribbon and frosting." One time she was transporting a four-tier cake, of which the bottom was 16" around. When she was getting it out of the car, her shirt  button poked a hole in it. "So I do make mistakes (once in a while), and thankfully frosting is forgiving." Turns out, it was the perfect place for a flower anyways.
She enjoys spending time with her family—hiking, camping and going to the beach—and they recently traveled to Cuba together. She also likes going to museums and "seeing some mind blowing art." The MAH is a favorite. Right now, she's excited for her boys to start kindergarten soon. "I know it sounds cliche… but it really does go by so fast."
Obviously humble and far from being in danger of taking herself too seriously, Edith is a talented, giving and driven woman with a quick wit. Take some time to soak it up, Edith, because you're our Woman of the Week!
Check out the "low country boil" cake!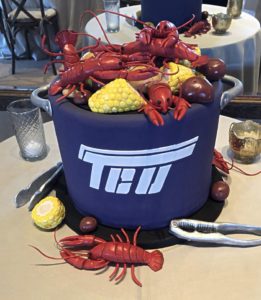 Visit her website: http://edithmeyer.com/
Find her on Facebook and Pinterest 
Written by our discoverHER blogger: Liz Hodges