Gift-giving is a love language and one that anyone can learn to speak. -Bonnie Wertheim
Our annual guide features holiday gifts from a woman owned business in Santa Cruz, CA. There's a little something for everyone. We aim to help make your holiday shopping personal, thoughtful, and fun.
discover BHODY, owned by Yoke Wong. BHODY is a Sustainable & Ethical Lifestyle Retail Store for the Home and Body. Premium, well designed apparel & natural body care products for Men, Women & Children. Visit BHODY located in downtown Santa Cruz for your unique holiday gifts.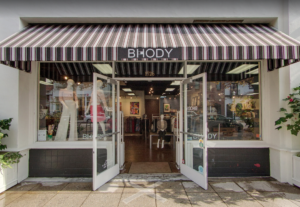 Stop in and say hello to the amazing team at BHODY, they can assist you in selecting the perfect holiday gift. bhody.com
Instagram: @bhodystore
Facebook: @bhodystore
Meet Elizabeth (Liz) Hodges, owner of Verdant California, skin care herbalist, avid baker and freelance writer. Back in 2013, Liz moved onto some rural property in south Santa Cruz county, started her own garden and took a leave of absence from grad school. In her pursuit of a more meaningful life, she raised chickens and goats and immersed herself in a DIY lifestyle, starting a homesteading blog and studying horticulture, then herbalism, which she holds a certificate in.
Now based in downtown Santa Cruz, she loves walking to the farmers market and dreams of having chickens again someday. She's inspired by her community and excited to share what she's learned with others while continuing her lifelong pursuit of plant knowledge. Website: verdantcalifornia.com IG: @verdant.california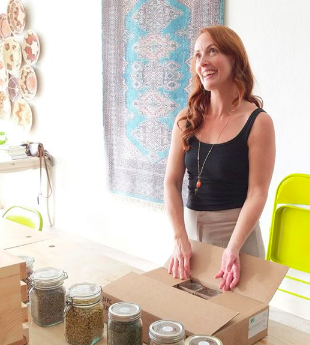 Join Liz as she hosts a Salve & Lip Balm Workshop at All Hands on December 16. We invite you to check out her new products, shimmers and bath bombs, available to purchase at verdantcalifornia.com. They make amazing stocking stuffers!
Meet Allie Malone, Owner and Creator of Knots & Blue. Allie is a stay at home, homeschooling mom of 3 little girls. She began to use fiber art as a way to stay mindful and creative, while being intentional with the time spent with her girls. Knots & Blue was birthed out of artistic overflow, and has become an incredible way for her to be involved in the Santa Cruz small business community.
Knots & Blue is an ocean inspired fiber art. Allie's plant hangers and wall hangings make fabulous gifts. We think you'll like them so much you'll want to keep one for yourself. You'll find them on her Etsy Store.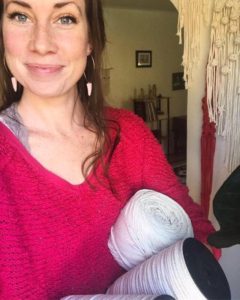 Meet Aga, Owner and Creator of Baabushka, located right here in Santa Cruz, CA. She makes lovely, cozy woolens woven with love. Treat yourself to luxuriously soft and colorful hats, scarves, cowls and slippers. Aga is extending a discount of 20% when you use SBLOVE at checkout.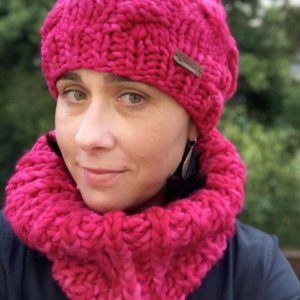 Baabushka's mission and passion is wool — and working with artisans worldwide to create unique and high quality handmade woolen products. They work only with suppliers who follow fair trade protocols, environmentally-friendly and sustainable practices, and ensure that the animals under their care are treated humanely and responsibly.
Baabushka also supports the fight against extreme poverty by contributing 2% of their sales to Global Citizen, a movement of engaged citizens who are using their collective voice to end extreme poverty by 2030.
Shop online at baabushka.com
Kamala began to seek out more bamboo clothing for herself and her family, and through the process became educated on the benefits of bamboo. She discovered not only is bamboo ultra-soft, it's also eco-friendly, naturally breathable, and high performance. She was so inspired by her findings that she wanted to share it with our community and decided to open Fybr Bamboo.
While Fybr's main focus is bamboo, they carry other unique items made from alternative textiles and recycled materials as well as natural body products and socially conscious brands. Every item has a story behind it from eco-conscious to social good.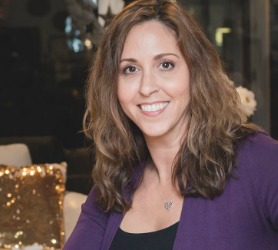 Here are a few of Kamala's favorite products: Bamboo Sheets – Ultra soft and luxurious made from sustainable bamboo. Bamboo sheets are on Oprah's Favorite Things List 2018. Holiday Bamboo PJs for the whole family. SO soft, stylish, and comfortable! Aromatherapy Nebulizing Diffuser – Heat-free and water-free, cool air diffusion preserves the integrity and therapeutic quality of your essential oils. Elegant hand blown-glass has bamboo base and no plastic parts. Find these great gift items and more at Fybr Bamboo, located at 1528 Pacific Ave in downtown Santa Cruz.
ANATO, crated by Céline Jennison, Founder & Chief Alchemist : Body Care & Tools for the Zero Waste Voyager.
Anato is a regenerative body care line for people who want pure, socially responsible products while reducing their plastic footprint. At Anato, they go beyond organic. Their ingredients come from renewable resources like trees & seaweed. They plant one tree for every ten products sold to offset more carbon than is emitted from production, retail and shipping activities. Their packaging is either bare, re-usable or backyard compostable. Anato's products provide an experiential journey through soft fragrances. Their black cedar soap takes you through the forest, their scrub will fill your nostrils with the calming scent of the ocean and our vanilla bean infused jojoba oil will remind you of warm agroforestry landscapes of Madagascar. We invite you to visit their website for more fabulous gift ideas!
Join Céline on Saturday, December 15, 2018 2:00 PM to 4:00 PM at All Hands Workshops, she will be teaching how to make reusable beeswax wraps to avoid wrapping food in plastic. And learn to wrap holiday gifts #ZeroWaste style — without plastic tape!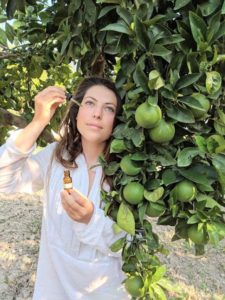 Here are a few of her favorite products: The Zero Waste Voyager Kit, the Perennial Elixir, a multifunctional oil and the Black Cedar Soap. Find them on the Anato website.
Sacred Beauty was created by Ashley Brown a busy single mama as a creative project. She weaved together her passion for natural health, a background in holistic skincare, and her need for more self-care. Ashley creates high quality, all natural, hemp CBD wellness products for women. She wants all women to feel empowered, vibrant, & sacred in their precious bodies, "when you are in your full power, you are the greatest gift to the world." Available to purchase on her website or locally at Capitola Reef in the village.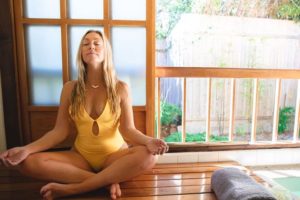 Solace Santa Cruz is a new boutique for everyday habit essentials. Located on the Westside of Santa Cruz. It's full of unique treasures from tea, honey, candles, essential oils, soap, to shaving kits for your man and so much more – you'll be delighted. Stop in and say hello to the owner, Melanie, tell her we sent you!
Solace Santa Cruz is also an available space to women for events, seminars, classes, trunk shows, and other small gatherings.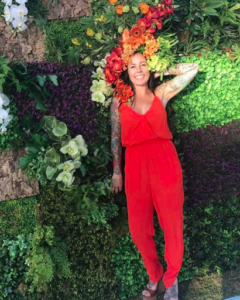 American Hat Makers
Head'n Home has been proudly handcrafting hats in the U.S.A. for over 40 years. Each hat they offer is handcrafted in their 17,000 sq. foot factory right here in Watsonville, California. They have a hat for any occasion, whether it be a functional hat for everyday work, to a stunning fashion accessory for a red carpet event.
Don't miss their factory sale happening Saturday, December 1, 2018 at 9 AM – 4 PM they'll have hats and MORE!